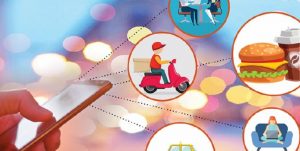 The gig economy is anything but stable — but it can be the last line of defence in a crisis, argues Yogesh Patel
The pandemic has left 25.7m people in the US either without work or facing pay cuts. In the UK, the unemployment rate hit five percent for the first time since 2016.
These cuts were especially noticeable to 16- to 24-year-olds, where unemployment hit 11.1 percent. The Resolution Foundation, a think-tank aiming to improve the lives of those on low- to middle incomes, found that those from minority ethnic backgrounds, and those aged 18-24, bore the brunt of job losses.
And this, coincidentally, is the demographic that commonly works in the gig economy. Many have been left unemployed or on furlough, without readily available full-time work. Businesses such as Amazon, Uber and the slew of delivery apps provide an accessible income source with low entry barriers and flexible hours.
In the US, the grocery delivery company Instacart saw an explosion of popularity during the first few months of the pandemic. It hired some 550,000 new workers to handle the growing demand. The freedom to set individual work schedules, and the rise in remote working and shopping, boosted the gig economy in supply and demand.
But this was not without problems. Certain roles within the gig economy did not pick up as drastically as others. While food and parcel delivery may have sky-rocketed, the work for taxi drivers did not. The lockdown restrictions and stay-at-home orders did nothing to help Uber drivers who were appealing for improved workers' rights. In California the controversial AB5 and Prop 22 bills were passed, resulting in delivery drivers being classed as self-employed, and exempt from any state-mandated benefits.
Gig economy workers face harsh challenges when work stops coming in. No job security, no overtime or sick pay, and no healthcare or medical insurance coverage. This was an issue for delivery drivers, especially those from the BAME community who statistically face a higher risk of infection. The percentage of UK BAME workers who are not working, or partially / completely furloughed sits around 55 percent. This compares to just over 40 percent of the general workforce.
While the gig economy may play a role in temporarily alleviating the unemployment crisis, it is not a sustainable solution. The call for greater rights for workers, and the gradual opening of businesses, point to a dismal end for the sector.
As lockdown orders ease and the vaccination programme advances, the world is opening up again. It remains to be seen how much of the "delivery and home convenience" mindset will remain. But should demand for e-commerce remain, it is unlikely that the gig economy will reduce in size. With the push for greater regulation and unionisation, businesses to turn to it during periods of economic downturn. The gig economy could staunch job losses and business closures come the next recession.
---